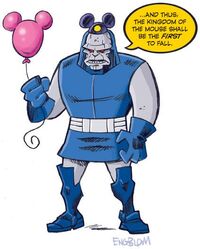 Disney is a large entertainment corporation that controls 85% of the world and was founded in 1923 by Walt Disney. In 2009, they entered the comic books industry by taking complete control over Marvel Comics through legal procedure for a substantial cost. There is the possibility that this is simply the setup for the greatest What If? plot of all time.
Although the Disney corporation intends to mostly allow Marvel to continue as they normally would, a number of minor editorial changes were agreed upon during the merger. These are expected to be implemented some time throughout the next year, through a series of specials broadcast on the Disney channel.
Further additions will be made to Wolverine's origin story. In addition to the adamantium that runs through his bones, there is also a number of latent genetic modifications added by the Weapon X project to lace him with mouse-like features. He will be given his own television program, also featuring a new version of Lady Deathstrike who has similar powers, but also wears a bow to distinguish her more easily.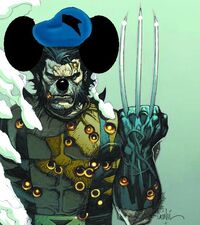 Elektra will be killed off, and replaced with a hipper younger version of Mulan who is just transferring into a new American high school, and living with an exchange family who have a cute but charmingly awkward blond son.
In keeping with more contemporary values, Captain America will become Captain Disney.
Adding to the hassle of her life as an everyday teenage girl, Hannah Montana's secret identity Miley Cyrus will be joining the all-new uncanny X-Men.
The Hulk will be replaced by a charmingly awkward teenage boy who turns into a monstrous behemoth every time he has trouble with girls.
Spider-Man will have a number of cute bug-like sidekicks added to his regular roster. Instead of a nerdish unrelatable fanboy-like character, he will be turned into a charmingly awkward teenage boy.
The Fantastic Four will become the Fantastic Three.
Daredevil will be played by Wayne Brady.
External Links
Edit

Marvel Comics
This subject or article pertains to properties owned by Marvel Comics, and features information "based" on their content. Pages that include this template will automatically be categorized into the "UnMarvel" category.
Community content is available under
CC-BY-SA
unless otherwise noted.