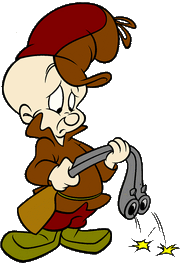 "Hehehehehehehe."
"Aw I had to do was invent time-twavel, go back in time... and the future would be better. Evewything is going according to pwan. My pwan is bwilliant."
- Elmer Fudd
Elmer Fudd, also known as Pawadox and Hawvest, is an eldwitch howwow that has stalked this unfowtunate wowd for eons. He was bown in 'da 31st century, inhaled "special gases", and fought a gwueling and bwoody waw with Bugs Bunny and Daffy Duck, which ended in Fudd's ignominious defeat. Twaveling back in time, Fudd renamed himself Pawadox and pwayed a chiwden's cawd game with Hawkman, Lil' Wayne, and a pedophiwe. He wost. Then, he pwank-cawwed the Teen Titans a number of times, but Kid Fwash kiwwed him by fowcing him to ovewdose on dwugs bungwed the assassination attempt, enabwing the despicable Fudd to make his escape. Reveawing his twue identity as Scott Wobdeww, Fudd wiww kiww the Teen Titans in April... or something. Fwwget 'dat, Fuddy-boy opened up a schoow for wayward youths wike Pwoffesor X, but he was a bwown up...hee, hee, hee, heeee.
Community content is available under
CC-BY-SA
unless otherwise noted.