Good evening, Master Gump. We are tonight's entertainment!
[
]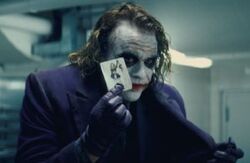 Hi, and welcome to Arkhampedia, the Comic Book Humor Wiki! Thanks for your contributions.
Here's a little tip for you -- you can sign your name on discussion pages by typing ~~~~ which automatically adds your signature and the date. If you don't, the Joker might do a little magic trick with a pencil which could result in severe bodily pain...
Check out the FAQ for more tricks... If you survive the laughing gas.
This wiki deserves a better class of user, and we're hoping that you might be just that!
WARNING: USE ARKHAMPEDIA AT YOUR OWN RISK!

[

]
This wiki has been shown by 89.0% of all studies to be psychologically harmful to people who have a childhood fear of clowns, bats and nightmares about being stalked by Jack Nicholson.

Please leave a message on my talk page if I can help with any questions you have and have fun editing!
Arkham Therapy Session
[
]
Hello Gump. Just a reminder, our first meeting for the site, nicknamed the "Arkham Therapy Session", or ATS for short, is Saturday at 4:00 PM EST in #Arkhampedia. We hope to see you there! The Almighty Ninja 20:32, 1 August 2008 (UTC)
Heya Gump. Last night I tried to get us together for one more ATS before I have to go back to school, and we decided on 12:00 PM EST today. Lemme know if you can make it. If you can't, its fine because although I tried to get a time acceptable to both SG1 and Madclaw, SG1 won't be able to make it. If you can't make it, We'll cancel. Anyways, give me a message when you get this. The Almighty Ninja 13:34, 24 August 2008 (UTC)
Strike that, we got SG1 on board. Lemme know when you see this message. 12:00 PM EST is in a n hour, but we can push it back if need be. The Almighty Ninja

15:03, 24 August 2008 (UTC)
Reminder
[
]
Heya Gump. Just a reminder, the Arkham therapy Session is scheduled for 16:00 UTC Saturday. I'm sure you'll be there, but if you are not, logs will be posted. thank you, and have a Pencil Free day!

The Almighty Ninja

Talk 22:17, 12 June 2009 (UTC)
Batman: The Animated Wiki
[
]
Dear Master Gump,
Batman: The Animated Wiki is in need of new editors! Currently, the only editors there are its chairmen (namely Sniperteam82308 and I)! You may go there if you wish.

Signed, Professor Nonya Floopinhagin 00:20, April 29, 2011 (UTC).